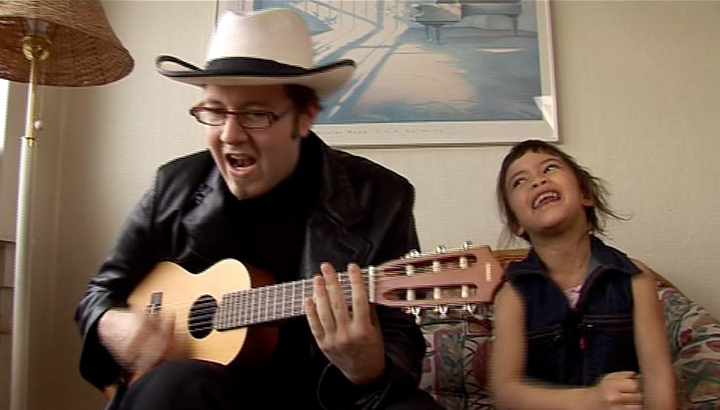 In April 2006, just after moving into the great O-town (Oslo, that is), I made my first humble steps inside the Norwegian Broadcasting Company NRK's big corridors, in the blind faith of successfully pitching a song for a children's TV show. Luckily, the folks at NRK agreed that distorted punk rock guitar riffs (pretty much unheard of in children's TV at the time), heavy drums and a 9 year old kid screaming about his favourite toy dragon was a good idea – and the rest is history!
There is so much to say about Jubalong, so excuse me for getting personal. Not only was this my first real entry into the film and TV business, and two years with some of the funniest moments in my life. It was also, at its best, a very good TV series, which should be remembered for many years to come – not only for the handicapped main character Rebekka (whose
handicap was: being a rag doll), but for the incredible performances by the leading child actors (sometimes half-improvising and "stunt acting"), the way "real" children were portrayed and how they took part in group conversations and dilemmas (completely naturally and without being fed lines by grown-ups), the fact that the series intelligently discussed very different themes that kids actually care about… AND how the series tried to portray different children's own personal worlds with songs and music, with absolutely NO rules or boundaries. There was SO much love put into this production, from the entire staff.
My responsibilities in this TV series also meant that I suddenly had to become an actor overnight. I have to admit that watching my performance in the very first episodes is kind of painful, and I can only wonder if my dear collegues at the NRK were shaking their heads and dragging their hairs out in sheer horror when I wasn't watching. But they believed in me, and I'm ever grateful for that. After a couple of "warming up" episodes, I sort of found my character, and from the second season onwards I really felt comfortable with it all. As a matter of fact I was having a TOTAL blast.
In each episode of Jubalon
g there was a section called "VRÆL" ("Growl"). In this section I visited children in their homes, and helped them write songs about the things that mattered to them. This could be everything from a horse, a cool-looking dragon, looking forward to spring, being a "gangsta girl", and environmental issues. We even went totally META and did things like a song about how strange this song is, and a song about being unable to decide what the song is going to be about. The youngest kid participating in the concept, Alexander, aged 3, simply did "a song about everything". And the kids loved it. Kids are smart! They like advanced meta humour. And I firmly believe kids deserve quality music (and entertainment in general) that challenge them and take them seriously as individuals – instead of more of that eurotechno flavoured sparkling pink autotune shit. This is really important to me. I never tried to convert the children into perfect pitch singers. Let them be kids for chrissakes.
Now that I've had this little rant – I'll let the memory of Jubalong live on. I'm really proud of being a part of it.
There is also an al
bum available on every major music service out there. A DVD with 4 full episodes and 10 additional VRÆL videos was produced by NRK, but is now apparently out of print. They do, however, have the album on CD (highly recommended) with 17 selected songs, plus a booklet containing all the lyrics and lots of liner notes by yours truly.